Villa La Pausa, het huis dat Coco Chanel bouwde
Famous Real Estate Posted by admin on Mon, Mar 22nd, 2021 @ 9:28:27 AM 186 0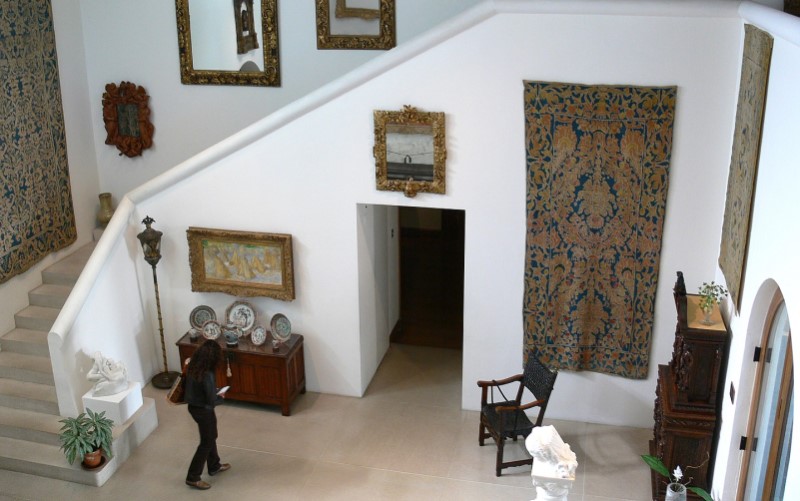 La Pausa is een grote vrijstaande villa in Roquebrune-Cap-Martin, in het departement Alpes-Maritimes in Frankrijk. De Franse modeontwerper Coco Chanel ontwierp en bouwde hem in de vroege jaren 1930. Het bleef eigendom van Chanel totdat ze het in 1953 verkocht aan de Hongaarse uitgever Emery Reeves. In de periode van 1956 tot 1958 bracht de voormalige Britse premier Winston Churchill ongeveer 1/3 van een jaar door met Emery Reeves en zijn vrouw Wendy. De laatste bezette La Pausa tot haar dood in 2007. Replica van de belangrijkste kamers van La Pausa en haar belangrijke kunstcollectie werd gecreëerd in het In Dallas Museum of Art.
Image © Rene Boulay [CC BY-SA 3.0], via Wikimedia Commons
Coco Chanel buys a plot in Roquebrune-Cap-Martin and builds a villa La Pausa on it
In February Coco Chanel bought a plot of 5 acres for 1.8 million (old) French francs. Formerly the plot had been part of the hunting grounds of the Grimaldis, a ruling family in Monaco. It contained wild olives and orange groves. On this plot Coco Chanel built villa "La Pausa" for 6 million F.Francs. It was finished less than a half year later with Robert Streitz as the architect. Robert Streitz dreamed about the "ideal Mediterranean villa" and had restored another local villa for Chanel's friend Count Jean de Segonzac formerly. In that time Coco Chanel had a relationship with Hugh Grosvenor, 2nd duke of Westminster. It is not clear which part both played in the financing of the building and its furnishing.
6 million old French francs are 60,000 new French francs. In euro: € 1500.
Coco Chanel baseerde het ontwerp van La Pausa op het weeshuis in Aubazine waar ze haar jeugd doorbracht. Het herhalen van het ontwerp van vijf vensters door het hele huis is een eerbetoon aan de parfum van Chanel, Chanel nr. 5. Voor het dak bestelde Chanel meer dan 20.000 gekromde handgemaakte tegels. Het interieur van het huis is ontworpen in de kleuren wit en beige. Beige is ook de piano die het huis bevat. Stéphane Bouding, voorzitter van het interieurbedrijf "Maison Jansen", heeft haar misschien geholpen.
Plan van het huis
De centrale villa is 929 m² groot en heeft twee kleinere villa's voor de gasten. Het hoofdhuis heeft zeven slaapkamers waardoor het een landhuis is. Verder drie woonkamers, een eetkamer, twee keukens en personeelsverblijven. De drie vleugels kijken uit op een schaduwrijke voortuin. De kamers hebben grote open haarden. Chanel vulde ze met Engelse meubels uit de 16e eeuw, een git van de hertog van Westminster. De vloer en lambrisering waren ook in Engelse eik.
Emery en Wendy Reves als nieuwe eigenaars van La Pausa
In 1953 verkocht Chanel La Pausa aan de Hongaarse emigrant Emery Reves. De Britse premier Winston Churchill werd een frequente gast van Reves en zijn vrouw Wendy Russell Reves in La Pausa. Churchill die van de sfeer in La Pausa hield, trok andere gasten, waaronder Noël Coward, Somerset Maugham en Edward Molyneux. De vrouw van Churchill, Clementine, vond La Pausa claustrofobisch en bleef bij Churchill voor vier van zijn elf bezoeken aan het huis. Churchill besteedde in totaal 54 weken aan La Pausa gedurende de drie en een half jaar na zijn eerste bezoek in 1956, waarbij hij ongeveer een derde van een jaar in het huis doorbracht van 1956 tot 1958. Tijdens zijn verblijf schreef hij een deel van zijn geschiedenis van de Engels sprekende volkeren. Zijn bezoeken aan La Pausa werden beknot in 1960 nadat Emery Reves weigerde hem te ontvangen. Andere opmerkelijke high society-gasten die door de Reves in La Pausa werden ontvangen waren de aristocraten Prins Rainier en Prinses Grace van Monaco, de hertog en Hertogin van Windsor, en de acteurs Greta Garbo, Errol Flynn en Clark Gable.
Huidige status van La Pausa
Tot haar dood in 2007 bezette Wendy Reves het huis. La Pausa was gesloten na haar dood en bleef gedurende meerdere jaren onveranderd. Ze liet de Reves Foundation inclusief de villa na en bevat voor het grootste deel onverdeeld het Dallas Museum of Art, enkele liefdadigheidsinstellingen en het College of Williams and Mary. In 2013 werd het huis beschreven als een modernisering en een nieuw verwarmings- en elektrisch systeem, evenals sanitair en een moderne keuken en badkamers. Reparaties werden ook vereist voor de stenen trappen en de weg naar het huis.
Na het overlijden van Reves werd La Pausa te koop aangeboden, met de verkoop van items uit het huis ten voordele van de Reves Foundation. In 2012 werd La Pausa door Sotheby's uit de verkoop genomen vanwege hangende geschillen. Nadat de juridische problemen waren opgelost, plaatste Knight Frank La Pausa in mei 2013 voor 40 miljoen euro te koop. In 2013 zei de Franse ambassadeur in Monaco, Hugues Moret, over de verkoop dat La Pausa "… een deel van de Franse erfenis was", eraan toevoegend dat "We moeten een manier vinden om het in de familie te houden."
La Pausa is nu opnieuw verworven door het Huis van Chanel, met plannen om het in zijn originele decor en geest te herstellen.
Gelegen boven het dorp Roquebrune, biedt het huis uitzicht op Menton en de Franse grens met Italië aan de ene kant en Monaco op de andere. De naam verwijst naar de legende die Maria Magdalena hier 'pausde' in de buurt van haar reis vanuit Jeruzalem naar aanleiding van de kruisiging van Jezus.
Geschiedenis in artikels
April 18, 2013 – Let's snoop around the former French Riviera home of Coco Chanel
October 1, 2015 – Coco Chanel's villa "La Pausa" bought by Chanel/
October 14, 2015 – Chanel reacquires villa "La Pausa"
[tp_search_shortcodes slug="17ef3905″] [tp_cheapest_flights_shortcodes origin=LON destination=NCE title="Vlieg goedkoop naar Nice vanuit London" paginate=true subid="" currency="EUR" filter_airline="U2″]
What is MDB?
MDB is world's most popular Material Design framework for building responsive, mobile-first websites and apps.
MDB - trusted by 400 000 + developers & designers
---
MDB free download



Get this ebook!


---




Newsletter First Home Buyers


---




Ads


---




Ads


---